Kit Review: Noix-1/48th Luftwaffe Pilot & Ground Crew
By Floyd S. Werner Jr.
Kit #: NM 4807
Cost: $17.35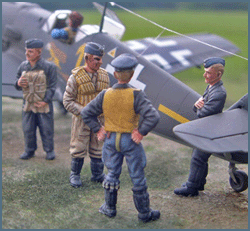 It is no secret that I like to add pilot figures to my 1/48th scale models when I photograph them so when these new figures came out from Noix I was immediately interested. These were white metal figures and in the past I've been very disappointed with the quality, until now.
Arriving in a clear plastic box with foam protecting them you are treated to five figures. The top contains a very nice photo of the figures painted by someone obviously better than me. Also there are some instructions which are mostly in Japanese but there are key points in English.
Upon initial inspection I can tell that these are some of the best figures I've ever had the pleasure to deal with. They are each cast as a one piece affair which in itself is very nice, however, it just gets better. Typically you have a seam around the figure that makes you obliterate some detail as you clean them up. Not so with the Noix figures. The seam is almost imperceptible and clean up is a breeze. I had all five figures cleaned up in less than 20 minutes. OK so they are molded nicely but are the proportions correct well they look perfect to me. Not too thin and not too fat. The heads look perfect proportion with the body. Well are the poses interesting and natural? Yes again. You get a pilot that is shown in a FW-190. Obviously he fits really nice in a 109 too. The other pilots include one that is in a tan flying suit with Kapock life vest. The third pilot has a defiant pose of his hands on his hips. The mechanics are posed naturally one has a lean with his arms crossed. He looks great. The other mechanic is holding a parachute.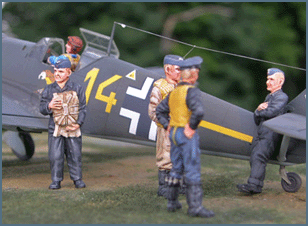 All these figures will add great visual interest to your aircraft diorama. These figures are so nice that they would look good by themselves.
Did I say it before? These are some of the best figures that I've ever had the pleasure to build. I hope that Noix will release more figures for WWII.
Highly recommended.
Thanks to David Cooper at DMC Models for the review sample. You can only order directly from him at proteus440@msn.com. You can see more figures and great looking airplane models at http://www.coopersmodels.com/Home.html .
---