Kit Review: Tamiya 1/48th Tiger I, Initial Production (Afrika Corps)
By Floyd S. Werner Jr.
Kit #: 32529
Cost: $30.00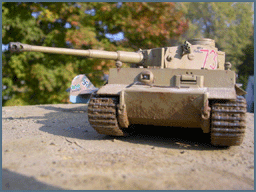 Tamiya's new line of 1/48th scale tanks has opened up a whole new world for modelers. The Tiger tank is a perennial favorite of armor builders and the new 1/48th scale is no different.
Like the other tanks of Tamiya's line this tank has a metal bottom which gives the model a scale weight. Clean up is a breeze, this is a Tamiya kit after all. Molded in dark green plastic there is minimal clean up on the parts. The fit is phenomenal. Because of the mixed media, metal bottom and plastic top you will have to use super glue to assemble some of the kit and liquid cement for the rest.
The tracks are assembled with the aid of a template. They fit beautiful. I left mine off until the end to make painting them and the model easier. I used no filler on the model anywhere. The fit is that good.
The chassis is built as per the instructions. I did change one thing. Something I've always wanted to try, a metal barrel. I used the Armorscale (B48-002) 88mm barrel which fit like a champ. The look was fabulous. This actually was a little kit in of itself. Beautifully engineered the turned metal parts and photo etch make this a dream addition.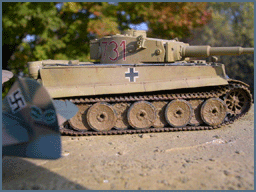 I painted mine in accordance with the FAQ book from Andrea Press. Primed with Alclad grey primer it was off to the paint booth. Using Tamiya paints and following the procedures in the book I was quite happy with the results. It was the first time I've used Mig Pigments and Sin Filters. The results were quite remarkable. Okay they were remarkable for me. The weathering followed the book and far surpassed my expectations. It made my model come alive.
Painting the tracks and attaching them brought everything together and I was done in next to no time. I think I may have spent 14 hours total time on the model. That is pretty quick even for me. I'm going to have to try another one.
I highly recommend the kit, the metal barrel and the FAQ book. I thoroughly enjoyed the model and am quite pleased with the results. The fit is perfect, the look is realistic and it builds up quickly. Bottom line, it looks great and is fun to build what else could you ask for out of a model? Shouldn't all models be like this one?
Remember modeling is fun!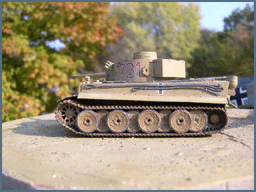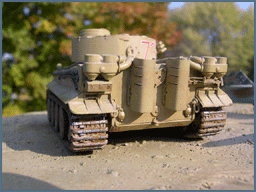 ---